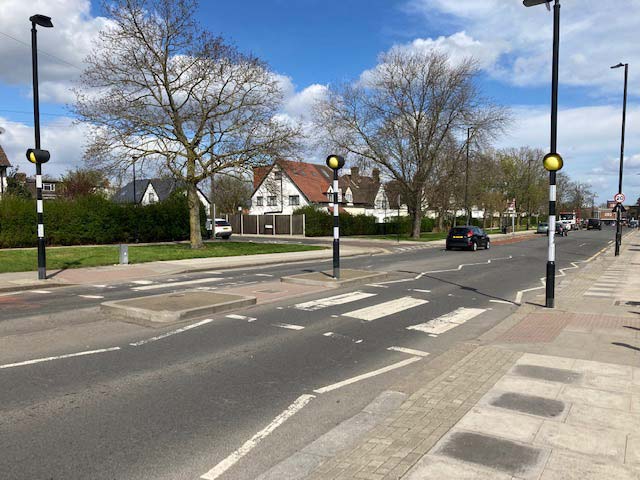 Product: Modupost
Location: London Borough of Haringey
Contact: Ken Weeks – Senior Lighting Engineer, London Borough of Haringey
Back in 2021, the zebra crossing improvement project started as part of the capital investment programme to improve lighting throughout the London Borough of Haringey. This included the replacement of conventional discharger lamps to LED and to improve the lighting on zebra crossings in line with the recommendations detailed within the ILP Technical Report, TR12. In order to achieve this, Haringey Council decided to replace all 286 existing beacon posts with our Extension 6 Modupost fitted with an additional LED lantern to further illuminate the crossing. Currently, 115 units have been replaced and phase two will commence later this year.
The London Borough of Haringey's Senior Lighting Engineer, Ken Weeks, said "By using the Modupost, the crossing becomes highly visible for all road users which should help to reduce future incidents on these crossings. It is our intention to replace all our zebra crossing beacon posts by the end March 2023. We also have an ongoing project for the installation of new crossings which are installed to the required standard."
The Modupost is a high performance illuminated post system featuring a robust design with low energy and low maintenance light sources. These are available with either a post top beacon or a mid-post beacon with a post extension enabling floodlight fitting.
In addition, the Modupost features a corrosion-resistant base section, LED illuminated stem and highly visible Belisha beacon. The vandal-resistant post enhances both daytime and nighttime visibility, encouraging drivers to slow down when approaching a crossing. 
Our London and Southeast Area Manager, Duncan Wells, said "We were delighted to be involved in such an interesting and successful project. Due to strong communication working together with Haringey Council and their contractor Marlborough Highways, it has resulted in an extremely smooth delivery. We look forward to supporting this project over the next year and continuing our work together to implement this programme."
To find out more about our selection of pedestrian crossing products, please get in touch.